&nbsp

ROUND VALLEY RESERVOIR PROGRESS UPDATE: 11/07/19
Road Closure Notification
Abutment grouting is complete at the South Dam, and the contractor is moving their equipment to the North Dam this week. The segment of County Route 629 that parallels the Reservoir between Old Mountain Road and the Boat Launching area will be closed from sometime next week through mid to late December. Detour signage will be placed at both ends of the road closure. The grouting project at the North Dam will occur within restricted portions of the Reservoir and will not affect the public's use of it.
Mobilization to Begin for Dredging Project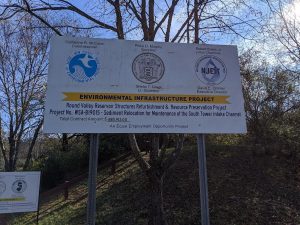 Onsite mobilization for the second construction project of the Round Valley Project, Dredging of the Intake Channel at the South Dam tower, is scheduled to begin next week. A portion of the parking area near the canoe/kayak launch will be used for equipment storage for approximately three weeks beginning next week, and again for approximately one week at the conclusion (currently anticipated to be just before Christmas). The canoe/kayak launch and the motorized boat launch will remain open for the duration of the project. Park visitors should avoid construction areas.
In-water dredging is scheduled to start at the beginning of December and will continue for approximately two weeks. Lighted ropes and buoys will be placed around the dredging site to restrict the area from boaters, but all other areas of the Reservoir will remain open.